Our new showrooms are located on the main downtown bypass in Salem Virginia. We have three dedicated hi-fi audio showrooms, a home theater showroom, and a guitar showroom.
Uptown Audio
104 E. 4th Street
Salem VA 24153
(540) 387-5050
We have the largest selection of high fidelity equipment in SW VA and the best values in audio gear in the Mid-Atlantic region.
We keep limited hours that are convenient for our customers and that allow us time to get installations and other work done.
Our showroom hours are:
Open Daily
Monday - Friday 10 am - 4 pm
Evenings only by appointment
All Day Saturday from 10 am - 4 pm
Closed on Sunday
Directions:
From I-81 going in either direction, take exit 140 onto Thompson Memorial Dr, heading into Salem.
After approximately 1.9 miles, take a left onto College Avenue and proceed approximately .4 miles to the intersection with 4th St. take a right onto 4th Street and go two blocks, taking a left onto Market St and you will find parking behind our building. The intersection at 4th and Market can be very busy at times and is uncontrolled, so be careful with your turn across traffic or simply pass the intersection and return so that you will be taking a right onto Market St.
We are the second building on the left, after the intersection with 4th and Colorado St, past just the Salem Donut shop!
We keep pretty tight to the posted hours, but just to insure your time is well spent if you are coming from out of town, be sure to call ahead and we will make arrangements to accommodate you.
General Area Map
Exceptional home theater is closer than you think!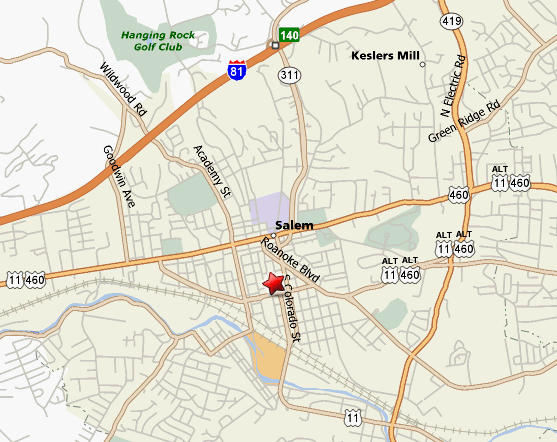 Salem City Detail Map
You will find us conveniently located and delivering high-end, hi-fi stereo and home theater systems to the following communities:
Roanoke, Salem, Vinton, Blue Ridge, Christiansburg, Blacksburg, Radford, Bedford, Lynchburg, Rocky Mount, Smith Mountain Lake, Greensboro, Charlottesville, Charlotte, Greensboro, Richmond, and all points in between.