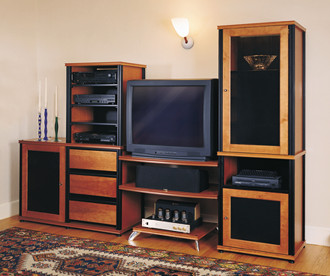 Uptown Audio has been in business since 1997 and the advent of DVD. And until Nov. 1st, 2008, in the same location on Brandon Avenue in Roanoke VA. We now have a new location in Salem VA, only 7 miles from our original site.
Our new showrooms are located on the main downtown bypass in Salem Virginia. We have three dedicated hi-fi audio showrooms, a home theater showroom, and a guitar showroom.
Uptown Audio
104 E. 4th Street
Salem VA 24153
(540) 387-5050
We have the largest selection of high fidelity equipment in SW VA and the best values in audio gear in the Mid-Atlantic region. In 2007 we began to carry a small selection of primarily used electric guitars and amplifiers. We now have quite a few lines of new guitar products available with many on display. We are convenient to Salem, Roanoke, Bedford, Blacksburg, Lynchburg, Christiansburg, Radford, and all points in the New River Valley. Richmond VA is only a 3 hour drive with Charlottesville being 2 1/2 hours.
We keep limited hours that are convenient for our customers and that allow us time to get installations and other work done. We have also added on-line shopping ability for many of our products.
Our showroom hours are:
Open Daily
Monday - Friday 10 am-4 pm
Evenings only by appointment
All Day Saturday from 10am - 4pm
Closed on Sunday
With over 20 years of experience and 20 lines of equipment containing countless models to choose from, Uptown Audio has the skills and experience to help you get exactly what you need and delivers exactly what you want ...Great Sound!
What our customers are saying about us
Uptown Audio also services electric guitars, amplifiers and sells accessories related to electric guitar such as pickups, cables, pedals, straps, strings, etc. We are now authorized dealers for Orange amplifiers and Heritage guitars. We also have a small selection of used guitars and amplifiers for sale from time to time.
We specialize in the service of vacuum tube amplifiers and in modifying and restoring electric guitars. We do custom installation and set-up of guitars with new pickguard assemblies, pickups and electronics from makes such as Fender, Gibson, Lindy Fralin, Seymour Duncan, ProCo, and others. We sell vacuum tubes from various brands such as Fender, Groove Tubes, JJ, Sovtek, etc.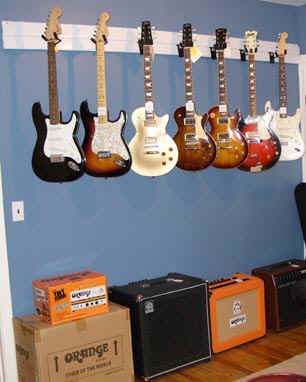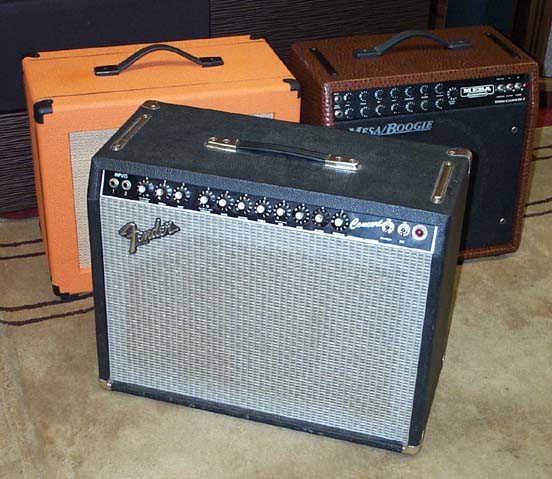 Guitars & guitar amplifiers that we have serviced recently:
Fender Tweed Champ - vintage correct repair
1965 Fender "Blackface" Twin Reverb amp - full restoration
Gibson Les Paul Standard - new pickups
Fender Deluxe Stratocaster - new pickups, electronics mods
Fender Highway One Strat - completely modded
Fender MIJ Telecaster - new pickups, saddles, intonation
Marshall JCM800-2203 amp - repair, retube, bias
Marshall JCM2000-DSL401 amp - repair
PolyTone Mini-Brute amp - repair
Mesa Boogie DC-2 amp - effects loop mod
Orange Rocker 30 combo amp - retubed
Orange Crush 15R amp - loose reverb unit
Fender Concert II amp - restored
1973 Fender Precision Bass - repaired pickup & adjusted action
1964 Fender Vibroverb - complete restoration
1948 Gibson GA-30 - complete restoration
Mesa Subway Blues amplifier
Gibson ES-335s Professional - new pickups & wiring
Vintage Hollowbody - structural repairs & new pickups
'78 Hiwatt DR-103 Custom 100 head - retube
'69 Fender "Silverface" Vibrolux restoration
1975 Fender "Silverface" Twin Reverb amp - full restoration
Marshall Blues Breaker - replace transformers
Orange Tiny Terror - Holy Terror mod
Ampeg BA115 bass amp - repair
1969 Ampeg B15N flip top bass amp - full restoration
1963 Fender Deluxe Reverb - repair
Sound City 50 Plus - complete restoration
B-52 twin combo - troubleshoot, repair, retube
Cornford MK50H head - replace power tranny, rebuild bias supply
1971 Fender Super Six Reverb - rebias
1958 AKG D12 mic - repair
Uptown Audio is a brick & mortar establishment that is open to serve the public in our community nestled in the Blue Ridge Mountains of SW Virginia. We actively support and contribute to the arts in the area. You will find a few photos of our shop below that illustrate our comfortable and friendly atmosphere. We specialize in high fidelity stereo systems and high definition home theater sales and installation. We have the valley's only practicing turntable expert on staff. We offer repairs and modifications to equipment ranging from loudspeakers to vacuum tube amplifiers. A selection of classical Lp's is available as are quite a few Jazz and modern CD titles. Accessories such as phonograph needles, headphones and cables can also be purchased.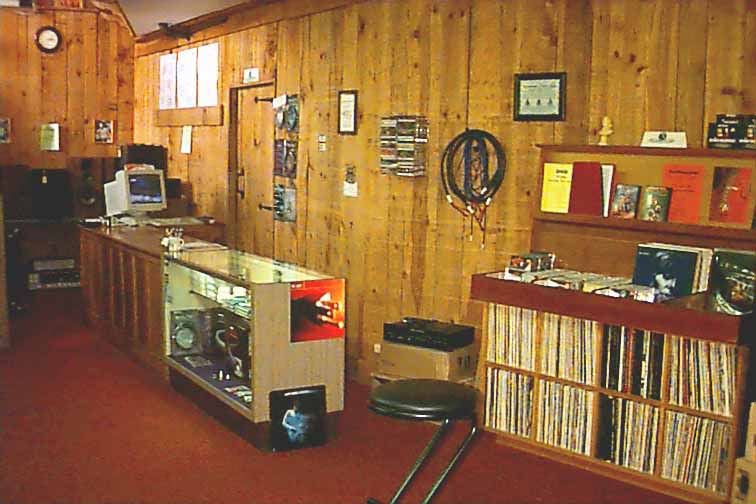 Here is the counter area of the original shop.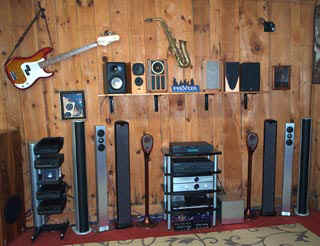 Our entry level, hi-fi equipment selection is excellent!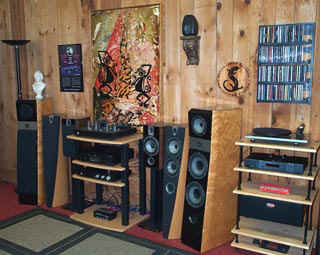 A Focal - JM Lab loudspeaker display.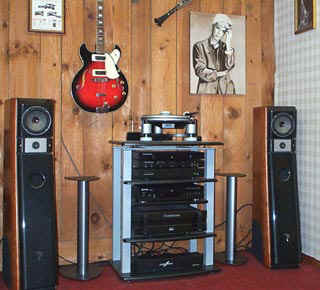 Focal Diva Utopia Be speakers - Awesome!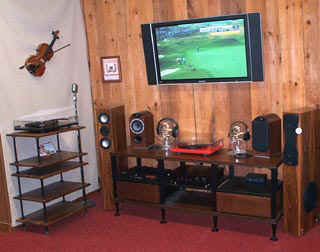 RBH and Tannoy home theaters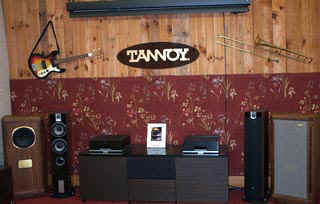 YBA, Tannoy, and Focal Hi-Fi systems.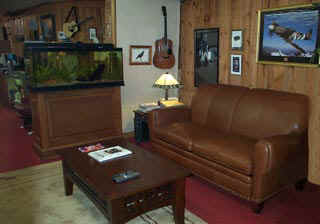 The comfy theater sofa.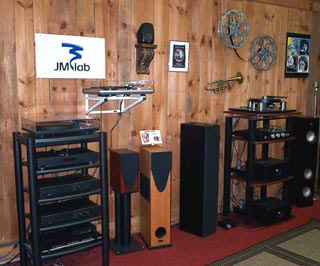 Rega, Rogue Audio & more!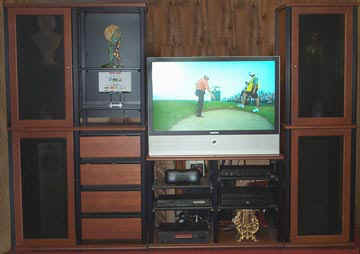 More theater, more fun!
Hi-Fi stereo components repaired recently:
McIntosh MAC4300V receiver, McIntosh MC2105 power amplifier, McIntosh MAC1900 receiver, McIntosh 5100 amplifier, NAD C272 power amp, NAD CD player, Technics SL-1200 Mk2 turntable, B&O Beogram 3000, ReVox turntable, Golden Tube Audio amplifier , vintage tube amps by Dynaco, Scott, Eico, & Altec, Dual turntables, Klipsch speakers, Cerwin-Vega speakers, JVC integrated amplifier, Luxman integrated amplifier, B&W speakers.
Our new digs!